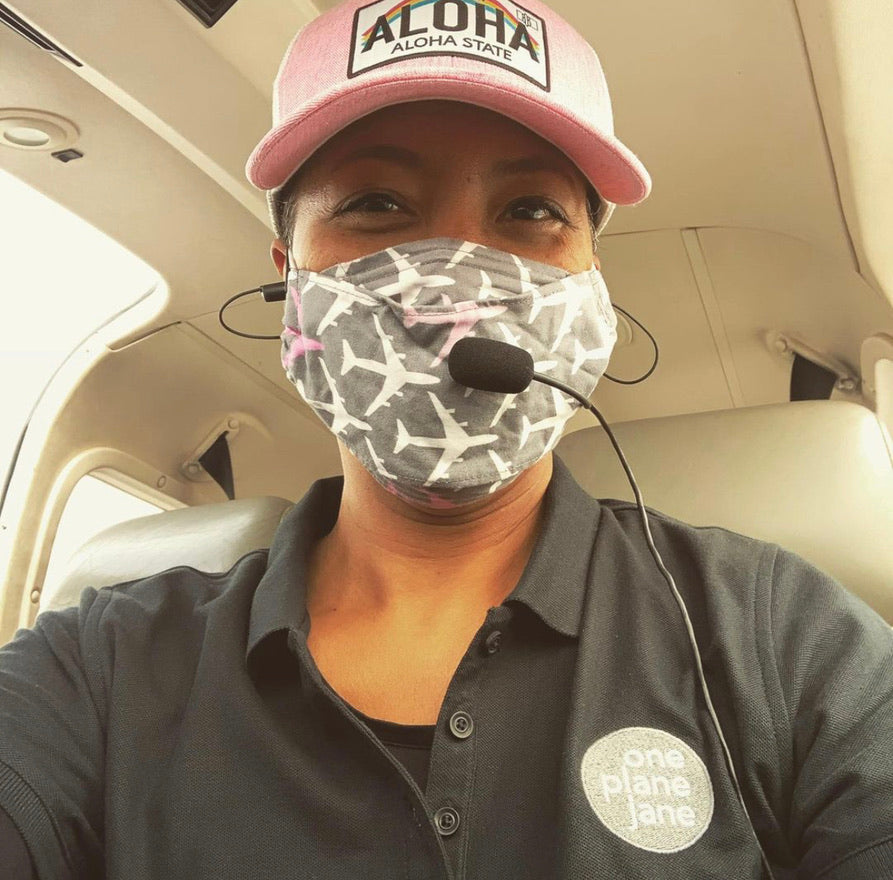 In 2020, One Plane Jane offered its first flight training scholarship. We received over 60 applications and, after careful review, a committee of six selected Mona as the recipient. We asked Mona to share a bit of her story with our community. 
Thank you to everyone who donated, applied, and reviewed applications. Special thanks to
Ladies in Flight Training
for administering the funds and to
ID90 Travel
for providing accommodations while fundraising.
.
.
.
Tell us about yourself.
I'm Mona and I'm currently a private pilot working towards an instrument rating in the deltas of Northern California. I am a flight attendant for a major US airline, an avid reader and traveler. 


Which came first, for you, the adventure or the airplane? 
Most definitely the adventure. I've always loved traveling by plane and train. I love the airport, hotels and cities where I don't speak the language. 


Tell us about your flight path to this date.
I've been with my airline for over a decade and was looking for a challenge and a learning opportunity. I was feeling like I'd exhausted those in my current occupation when a widebody captain said the magic words,"discovery flight." I came home and said to my husband, "I think I wanna learn to fly." He said, "I've always thought you'd make a great pilot!" 

I earned my PPL and am working on an instrument rating.  Next year's goals are ratings and certificates through CFII. I'd like to take a discovery flight in a helicopter and learn to fly drones as well. 


How can pilots use aviation to give back to their communities and/or use their other talents to give back to aviation?
At the very least, be visible. Just seeing someone who looks like you is empowering. Teach, if you can, be available to answer questions. Support the organizations and companies that are working to promote aviation or community improvement by volunteering and donating to their foundations and scholarships funds. 


What advice would you give a young lady, graduating high school, who is considering a career related to travel or aviation?
Talk to people who are already doing what you want to do. Look on LinkedIn, Instagram, TikTok and contact people. Also do some basic research before you contact them so you can ask them focused questions rather than general questions that can be answered by a flight schools FAQs. 


What are one to three books that greatly influenced your life?
The Handmaids Tale by Margaret Atwood has been my favorite book since reading it in high school. I've viewed it as a cautionary tale and it's kept me voting every election and politically active. 

On Writing by Stephen King mostly informed my writing career. These days, it informs my approach to new endeavors - sit down, do the work and I will achieve my goal. 

FAR/AIM, because I'm a pilot now. 


Do you have a "favorite failure" that set you up for success later in your flying experience or life, in general?
Not a favorite but a few hours after my initial solo, I porpoised an airplane down the runway and had a prop strike. I was unharmed but the plane was not. I was embarrassed and felt guilty for breaking a plane. My flying club was really supportive and was encouraging as I worked my way back to solo flying again.  Although that accident wasn't caused by these things, it really made me slow down. I stopped worrying that I wasn't hitting certain milestones in the "right" amount of time. It also made me set personal minimums that I was comfortable with and ask questions without worrying about sounding stupid. I also learned that a perfect scenario can go sideways in a split second  and to trust my instruction—what I learned kicked in.


What message would you put on a billboard, next to the exit for a major international airport?
If somebody offers you an amazing opportunity but you are not sure you can do it, say yes, then learn how to do it later. —Richard Branson
.
.
.
Follow Mona and her flying journey on
Instagram
.