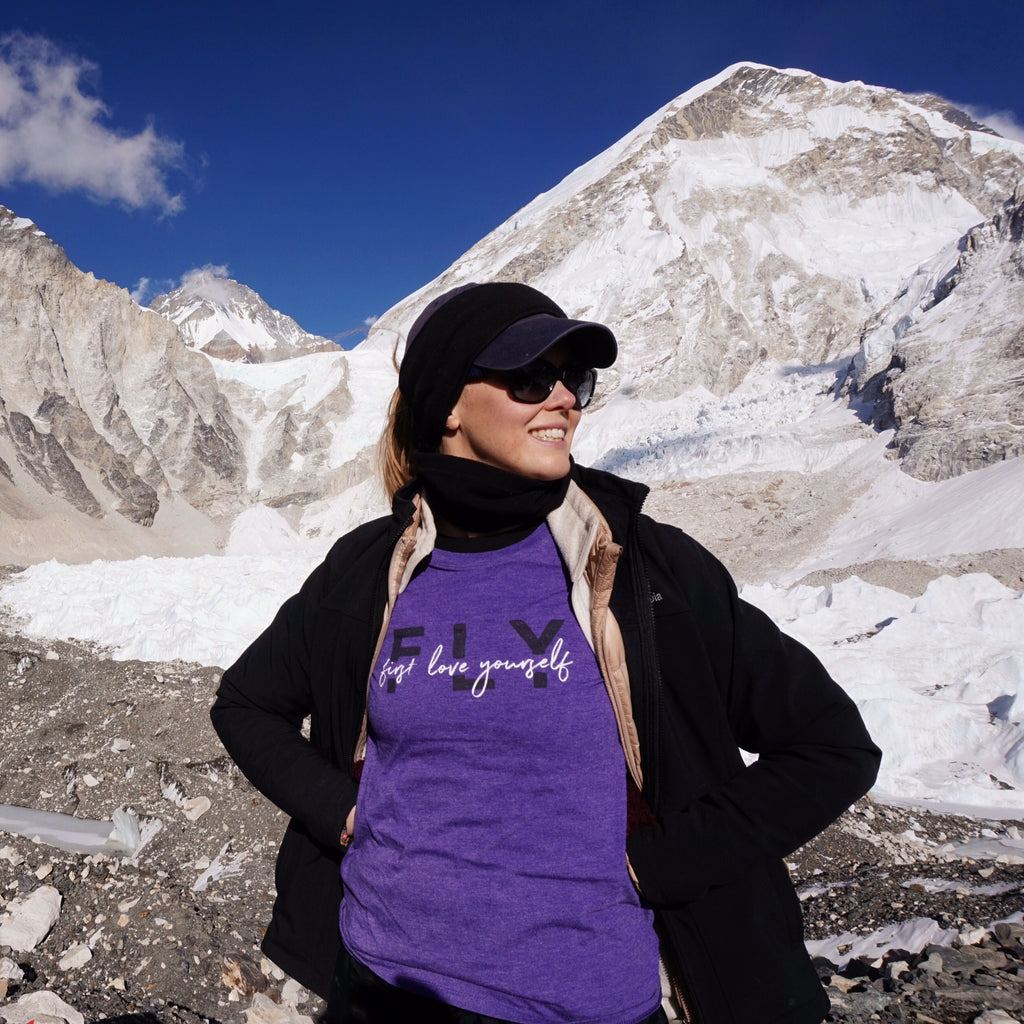 I recently had the pleasure of getting to know Christine Hannon of Alpha Charlie Travel and The Art of Strength.  Not only is she a pilot, fitness enthusiast, and business owner but she's also a true adventurer.  She just returned from Nepal after climbing to Mount Everest Basecamp (see picture above).  And on her trip she took One Plane Jane with her by wearing the FLY – First Love Yourself tee. I'm ridiculously excited to say that thanks to Christine, One Plane Jane is on top of the world. 
While she was off adventuring, I took part in her 1-month fitness program. It was unlike any other I've done before…. and I've done a few.  At the beginning of the month, I received a workout program, an eating plan and helpful tips on how to be successful. It was all very simple and could be adjusted for your fitness level. 
In this program, there's no "personal trainer" per se, but she did encourage me every day. Each morning I received a pleasant and encouraging email helping me remember my goals, provided more tips, etc. Her website also has a wealth of information, plus workouts that have been recorded all over the world. It was super awesome to see her working out in places I have only dreamed of going!
 The best part, and what I think One Plane Jane customers and followers will like most, is that the workouts and eating plans are flexible enough to do anywhere. Gyms are obviously ideal, but that is not always possible when traveling. With Christine's program, you can work out from your hotel room or take a run/walk around the hotel. She makes it easy. 
Christine has generously provided a Promo Code for One Plane Jane customers for 1 month free to her program. The code is ONEPLANEJANE. Thank you, Christine! 
Follow Christine on social media: 
Insta: @alphacharlietravel
Web: www.alphacharlietravel.com
Insta: @christinehannon
Web: www.the-art-of-strength.com