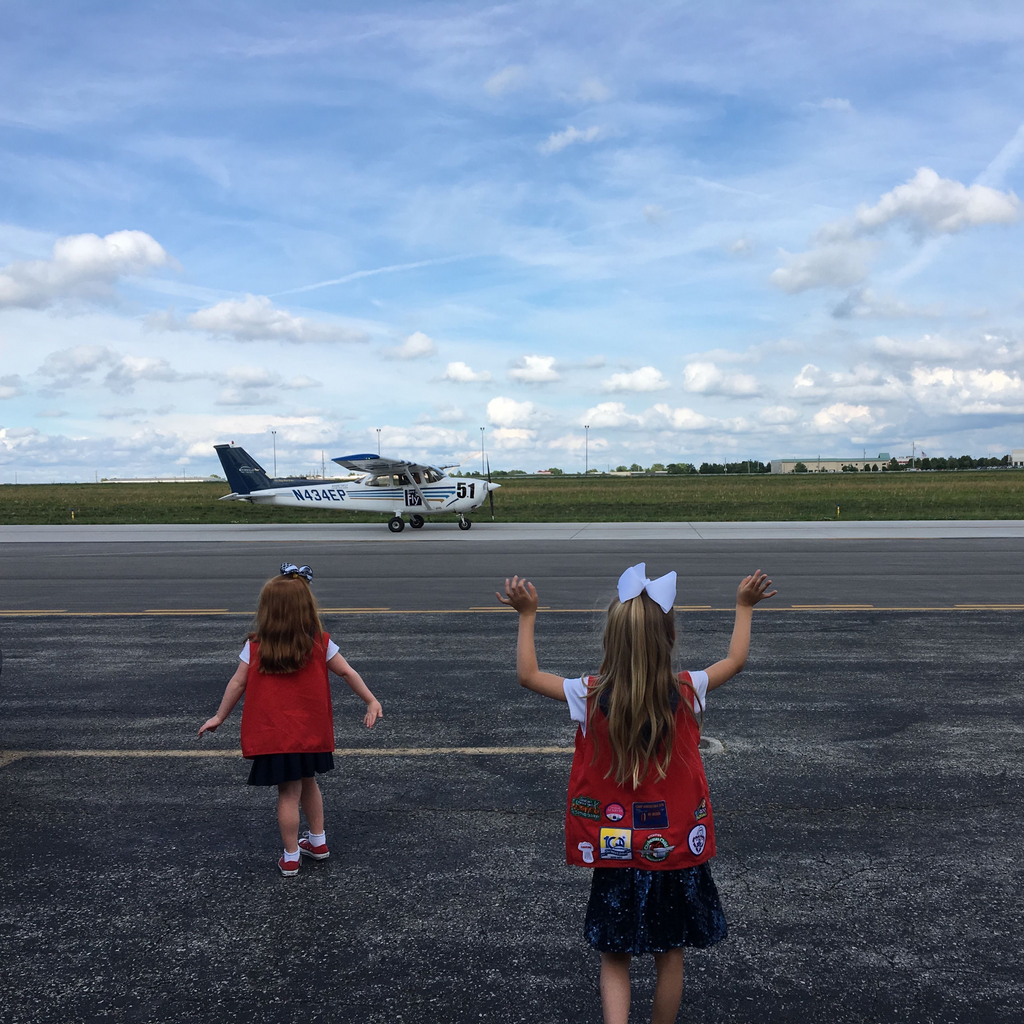 Recently, One Plane Jane Ambassador Emmy took over our Instagram stories to give us a behind the scenes look at the Air Race Classic, a 90-year old cross country event. She then graciously took the time for a Q&A to tell us even more about the event and her experience as a racer and a volunteer. Enjoy the story and learn how to get involved.
Tell us about yourself. 
I'm Emmy – If there's anything to know about me, it's that I live and breathe aviation.
Professionally, I'm a human factors engineer, which means I'm focusing on the relationship between pilots and their machines. In my case, the machine I work on is avionics. I've been a pilot for six years. I have my airplane single-engine and airplane multi-engine commercial certificate with an instrument rating. I'm also a certified flight instructor (CFI). I'm working on my CFII and MEI, while also working on aerobatic training. I'm in a number of local aviation organizations, including EAA and the Ninety-Nines.
Outside of aviation, I'm a musician in a local symphony orchestra and I'm pursuing a post-graduate degree in engineering.
What is the Air Race Classic (History, course description, etc)?
There's an incredible history behind the Air Race Classic, but I can give a quick recap.
Back in the 1920s, men were flying air derbies all around the country, and they were incredibly popular events – thousands of people would attend. When women tried to break into the men's air derby industry, they were not welcome. Amelia Earhart and several other famous female aviators decided that they would create their own women's air derby. In 1929, the first women's air derby flew from Santa Monica, CA to Cleveland, OH. 15 of the 20 women who flew finished.
Fast forward 90 years later, women are still flying transcontinental air races, but it is now called the Air Race Classic.
The Air Race Classic is a day VFR transcontinental air race flown by only women pilots. The race route averages around 2,500 nautical miles in total distance, with 8 or 9 required stops. The race route changes every year, which makes it exciting to see what new places you'll get to fly to next year. The race is flown at maximum cruise power for your specific aircraft.
The Air Race Classic isn't flown like a traditional race, where the first to land at the Terminus is the winner. It's flown based on a handicap speed, specific to each tail number. The goal is to beat your handicap the best.
From my perspective, the Air Race Classic is a celebration of the women aviators who came before us, an opportunity for women aviators of today to bond together, and an opportunity to encourage and inspire the next generation of women pilots.
You won in 2016. Congratulations! What do you think contributed to the success of your team and what tips would you give to women interested in racing?
I won't spill my race secrets, but I know that one of the things that contributed to our success was the mentality we had throughout the entire race. We weren't worried about beating other teams – we wanted to fly the best possible race we could, while having as much fun as we could. And we succeeded on both accounts.
To any women who want to get into racing, it may seem daunting to get all of the pieces together to make it happen, but there are literally hundreds of women racers that will help guide you to make that dream a reality - you're not alone in the process. My first suggestion is talk to an experienced racer the year prior to when you want to race, to get an idea of what to expect and how to prepare. The next step would be to find someone (or 2 other ladies) to race with.
Can you please explain how the handicap and timing work?
The handicap is determined by flying your team's race aircraft in a big box in the sky in race configuration at a density altitude of 6,000 feet. A team pilot flies with an Air Race Classic designated handicap pilot. The handicap is flown in a box configuration so that the average groundspeed determined is not influenced by whatever wind conditions exist during the flight.
The way the race is timed by a flyby system. At each airport on the route, the pilots must complete what's called a flyby. A flyby involves the aircraft flying across a timing line on the airport. Flying a flyby is what starts and/or stops the time for each leg.   
The race is scored by taking the leg time and factoring in the distance which determines the average groundspeed.
What's a mother bird? Tell us about that relationship.
First off, I love the mother bird/baby bird program. A team comprised of new racers, aka baby birds, can be paired with a team of experienced racers, aka mama birds. The mother birds help guide their baby birds throughout the entire race process, from just after registration through the entire race. You could think of it like the mother birds are mentors for their baby birds. Mother birds can help their baby birds with pretty much anything, including answer questions, walk their baby birds through the aircraft inspection and registration process, and clear up confusion about rules or racing strategy. Mother birds won't race with their baby birds or tell their baby birds how to race, because that's individual to each team.
How can someone volunteer?
Volunteers are so crucial in the success of the air race. There are so many different types of volunteering opportunities at each stop, so I'll list just a few.
Handicap pilot – if you're a pilot and not racing, you can serve as a handicap pilot.
Stop Volunteer – find a stop near you!
Timer – at each stop, they will need timers who help time each race aircraft crossing over the flyby timing line
To volunteer for next year's race, check out https://www.airraceclassic.org/how-to-volunteer.htm.
What's your favorite memory from racing? From volunteering?
That's a tough question, because there's so many incredible memories from my races. Two stand out to me:
Landing at KDAB (our home turf) at the end of the 2016 race. We landed and were escorted to our parking spot – we were both crying, because we both knew we fly THE best race we could have. That feeling of knowing you flew to the best of your ability, handling whatever challenge came your way, there's nothing like it. It's a combination of extreme gratitude, pride, and adrenaline.
This one is a little silly – but we were about to start up in Albuquerque, NM to head to Midland, TX – as we were doing a walkaround before hopping in, we both saw a tumbleweed and got SO excited. As east coast girls, we hadn't seen one before and we were just so excited about it.
One more – after an extremely tough race in 2018, we got out of the airplane in Maine and both immediately kissed the ground.
From volunteering, I have 2 favorite memories:
We had some little girls visit from a local troop – they were so excited just to be there. A race team came out to preflight and they got to hop in the cockpit. They're excitement grew exponentially. Then, when I told the girls they'd get to see an airplane taxi, takeoff, and do a flyby, it was like I told them we were going to Disney – they were beyond ecstatic. They jumped up and down, waving their arms, and screamed (excitedly of course) when they saw the race team taxi out – it was one of those moments that makes you realize exactly why you do what you do. Seeing these little girls and their moms get so excited about airplanes and aviation was one of the most fulfilling experiences I've had in the races.
4 former powder-puff derby pilots (including one who is turning 99 this year and one who was a part of the Mercury 13) came out to the airport to meet all of the racers. We were lucky to have 36 teams on the ground when she arrived. All of the racers and volunteers gathered around them to talk to them and hear about their experiences as pilots and racers. It was so remarkable and encouraging to see and meet multiple generations of racers.
How could participating in the ARC make you a better pilot?
Understanding your airplane – you develop a different kind of relationship with your race aircraft than you do with other aircraft you may fly. Yes, you know the systems of the aircraft when you approach it, but you gain a deeper understanding of its individual performance by racing it. As cliché as it sounds, you become one with the airplane.
Understanding more than just weather theory – every pilot understands weather theory. When to fly, when to not, when to divert, etc. But by racing, you learn to use the weather to your advantage. You have a much more detailed understanding of it – it's no longer theory, it becomes a part of your crew. The goal isn't to just fly in good weather, the goal is to use the weather for your advantage.
Workload management and separation of duties – Even though you're flying straight-and-level for a large percentage of the race, it's not as simple as it sounds. You're verifying performance calculations, adjusting the aircraft to get the exact fuel flow, speed, weight, performance that you want. You have to be concerned with the usual number of things you deal with when flying cross-country, like navigation, looking for traffic and maintaining separation, aircraft/engine health, monitoring weather, etc, but adding on some considerations for the race. This is why having at least one other person is the airplane is required - between two pilots, you can easily manage everything you need to, while flying and performing at a high skill level. So now when I fly, everyone that flies with me has a job. It could be something as simple as looking outside for traffic or reminding me to change my fuel tank after 30 minutes. Whatever it is, never waste a pilot's or passenger's skill set.  
Flying with other people – this sounds silly to say, but it's different from when normally fly with another pilot. You have to have a plan. You have to establish expectations, goals, and a strategy. Flying this race was the first time I ever really operated an aircraft as a crew. You have to appreciate the amount of experience in the airplane and bounce off of each other's strong suits. There will be tense times, but should you brief the separation of duties and what the expectations are inside the cockpit, it works smoothly. That experience has come in handy since in a variety of situations, both in and out of the cockpit.
Trusting your experience, your knowledge…….. and your gut – Part of this race is a mind game; if you're waiting out for better weather, but you start to see other teams leap at an opportunity to depart onto the next leg. You may question whether or not waiting for (hopefully) better winds is the right thing to do and want to join the pack. I've learned through these races that, while yes, there is thousands upon thousands of hours of experience flying this race, but ultimately it is YOUR race. You have experience, skill, and knowledge to fly your best race. Trust your experience - you wouldn't be racing if you didn't have strong flying skills. Trust your knowledge - you know a lot more than you think you do. And trust your gut - the way I fly, if there's any shadow of a doubt, don't go. Wait it out. And that has played a significant role in success in the race. My confidence in my own flying through this race - I'm not sure I would have grown so much if it weren't for the race. 
Precision flying – You want to be precise in everything you do when you race, from the amount of fuel you take, the heading you fly, the exact altitude down to 10s of feet. You fly a race differently than normal flying – you cannot allow yourself to deviate from your planned route, because it may affect how the winds affect your ground speed. You're doing everything you can to get your fastest ground speed and in doing so, you have to make small, finite adjustments. Basically, you become exceptional at planning and that transfers so well into the rest of your flying.  
You become a sponge (something my teammate from 2016, Abbie, would say) - what I mean by that is the people you'll meet and fly against are incredible. I've flown against Pulitzer price winners, NASA engineers, airline pilots, fighter pilots, national champion aerobatic pilots, flight school owners, corporate pilots, powder-puff derby racers, and so many more incredible ladies. There is so much to be learned from everyone you meet - whether or not its about flying and aviation. Some of the best parts of the race are meeting and getting to know the other racers. And in the process, you're creating lifelong friendships. 
If you could put a billboard in the sky, for all the racers, what would it say?
I haven't been asked this before but I'm intrigued by it!  I think it would have to say either, "Amelia would be proud" (after Amelia Earhart), or, "Tailwinds this way" and point in any direction (but that's just my sense of humor).
Thank you, Emmy, for the incredible impact you are having in your local community and ours. Keep inspiring! 
Follow Emmy on Instragrm @aviatrixemmy
Check out her takeover in our highlights: ARC w/ Emmy
Photo by Emmy